At last week's ETHPrague, we caught up on what our team has been up to in a Twitter Spaces session, and we also revealed our biggest piece of product news to date!
PWN was a proud sponsor of this marvelous inaugural event. We came to the event with a few goals in mind, but one that stood out among them is to simply let people know who we are and what we're about. As Steve put it, "The more people know about us, the larger the protocol will grow."
In case you weren't able to attend ETHPrague in person, there's a great livestream of the event available for leisurely viewing.
We need to talk about our booth
Looking back at PWN's presence at ETHPrague would be incomplete without acknowledging the absolutely magnificent booth that our team, along with the help and ingenuity of Zero Architecture, produced for the event. See for yourself.
It goes to show that whenever we do something, we aim to do it well. Our booth featured two separate platforms to showcase our platform, chat and gather feedback from booth visitors, and give out PWN merch.
What's more, we also offered screenprinting sessions (led by our very own Petra) each afternoon of the conference, during which we encouraged attendees to bring us their own T-shirts and get our Discord stickers printed on them. It was a hit!
Product updates: PWN IS LIVE!
That's right: After a good deal of blood, sweat, and tears (jk!), the PWN platform is live on the Ethereum mainnet and Polygon. Here are some details about what we've built.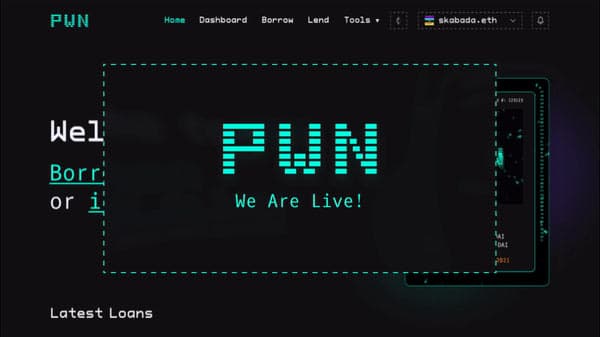 Highlights within our newest release
The first major change that users will notice is that it's possible for them to access and use the platform even when connecting a wallet that doesn't have the POAP.
Furthermore, the flow of getting a loan in the current version of the platform compared to its previous versions is faster and more seamless. Our terms offer unprecedented stability to users.
Importantly, the first time that you pay gas for the transaction (aside from an approval) is the moment where the deal goes through. With this functionality, we're offering users the web2 experience while remaining in the web3 space is what we continue to strive for.
Finally, you can still use anything as collateral.
In our Twitter Spaces session, Steve reflected on the rollout of the platform's release. "At the end of the day, we have been enjoying a smooth release. Now that we've finally deployed the release, I have chills when I think about what we're going to be deploying in three, six, or 12 months from now," he said.
"What I'm also very much proud of is how we've reduced gas fees. Even though we're operating in the web3 space, it doesn't mean that things need to be clunky or take extra time."
Benefits (and future plans) of the PWN platform
We make it possible not to worry about the price volatility of your assets.

We set up the platform for very frequent updates, and now the pace of feature upgrades can really pick up. We believe that our product will stand out even more in about one year from now.

We'll be releasing on other layer 2's in the coming weeks. Tell us which networks you'd like to see us on next!

You'll soon be able to watch a series of app walkthroughs and tutorials, which we'll be releasing on our social channels.
Minting plant-based NFTs (plaNFTs)
Another big aspect of our presence at ETHPrague was the minting of our very own plant-based NFT collection, aptly named plaNFTs. For anyone who visited us at our booth and was interested in interacting with our platform, our team members walked them through the process of minting their own plaNFT on the spot. In return, they were given their very own PWN T-shirt and tote bag.
Check out the entire plaNFT collection on OpenSea!
If you'd like to try the minting process out for yourself, you can go through it on our website. If you'd like to interact with the platform on Polygon, you can go to our website and mint some test NFTs and create a loan request. We'll offer you 100 pSeed tokens (which we created for the purpose of the conference) that you can use to mint one of our plaNFTs.
Final thoughts
We're super interested in hearing your feedback on the newest version of our platform and we welcome your feedback. Please feel free to get in touch with us (on Twitter or Discord).
Also, we'd like to give another shoutout to our community members who have stuck with us up until this point. We look forward to conquering the DeFi landscape together with each of you.
---
Want more? Listen to our entire Twitter Spaces session.