On Wednesday, Mar 21, 2023 the PWN team happily shared with you a report we've been working on for the past few months. The cryptonative economy report of the year 2022 is here and you can read some of the main parts from it in this blog post. Shall we dive in?
On-chain economic behavior of the cryptonatives
While working on the report, we used a dataset from TokenTerminal.com and data were validated with alternative sources - DeFiLlama.com and Cryptofees.info.
Cryptonatives are PWN's primary target users and we are cryptonatives ourselves, so we see it as our duty to further contribute to the ecosystem by sharing data and lessons learned with the wider community. We also do interviews with the top cryptonative minds from the space, read here the latest one with Pedro Gomez from Wallet Connect.
This report intends to uncover the actual economic demand for using various blockchains and various dApps as services, so essentially it's supposed to provide a comprehensive data overview about the on-chain generated revenue in 2022.
We've divided the report into a few parts, starting with Blockchain fees, then we covered dApp fees by various chains and in the last part we've dived into the top dApp fees such as OpenSea, Uniswap, or LooksRare.
Blockchain fees
This first section compares the top 5 Layer 1 blockchains and the transaction fees paid by the users. For the purpose of this report, mining and validator rewards aren't considered since those are not considered a "demand based payment".
The Top 5 blockchains generated over $5 billion of fees in 2022, representing 97 % of the total fees generated by all blockchains.
The considered protocols are:
In the 1st figure, you can compare the distribution of fees paid between Ethereum and other blockchains. While about 80% of the fees were paid on Ethereum ($4,325,714,582 in blue), 20% on the other blockchains combined ($869,080,948 in yellow).
The yellow section is the sum of the other 19 blockchains: Bitcoin, BNB Chain, Avalanche, Helium, Solana, Filecoin, Polygon, Fantom, Arbitrum, Optimism, Cardano, Elrond, NEAR Protocol, Zcash, Dogecoin, Cosmos, Terra, Polkadot and Arweave.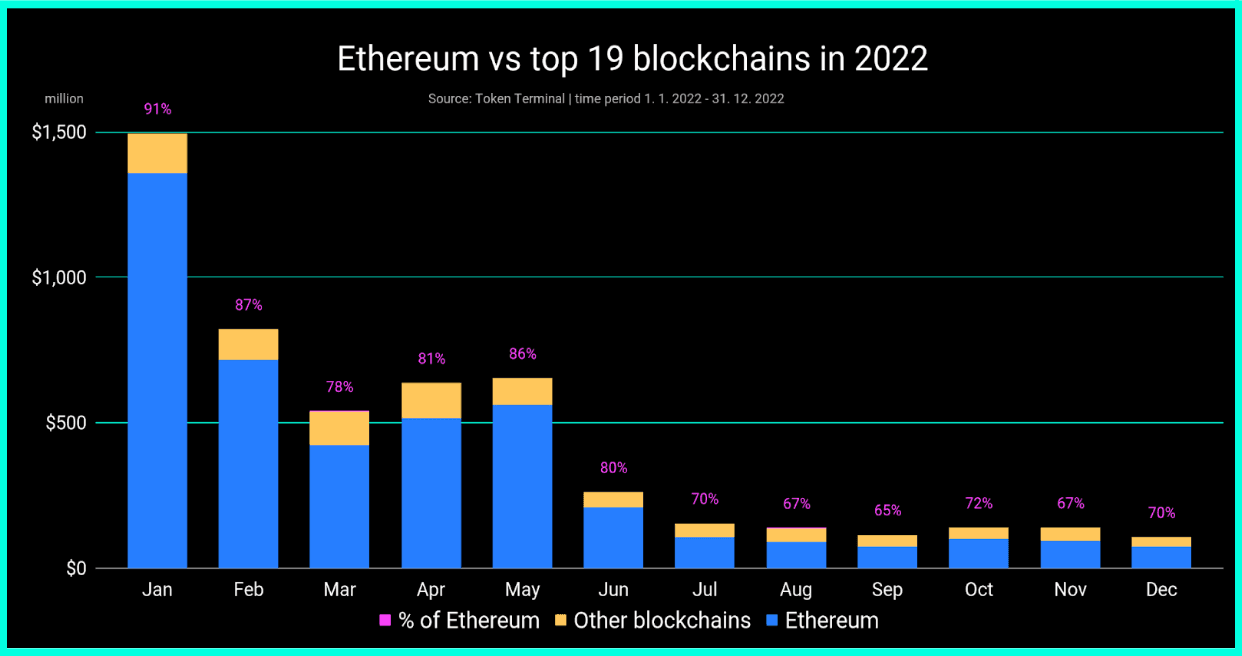 In the table below you can compare the fee revenues for each of the 5 protocols for each calendar month.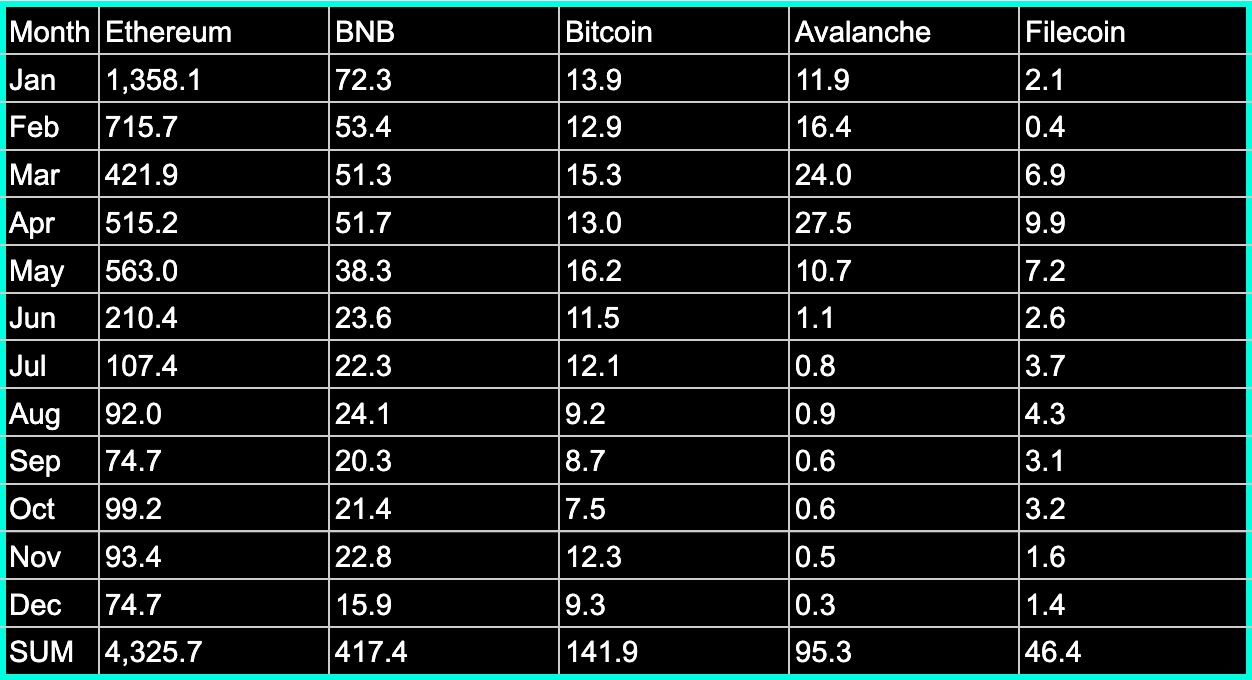 Ethereum
Looking into the data in more depth, Ethereum ranked first in terms of transaction fees paid in 2022. Ethereum generated a total of $4,325,714,582 in fees. For comparison, this was a 40% year-to-year decline since 2021.
The decreasing fee revenue corresponds to the entire market downturn in 2022. January - December fee revenue decrease was: 94%. However, the amount of daily users wasn't largely impacted - as the Jan-Dec comparison shows about a 2% increase of users.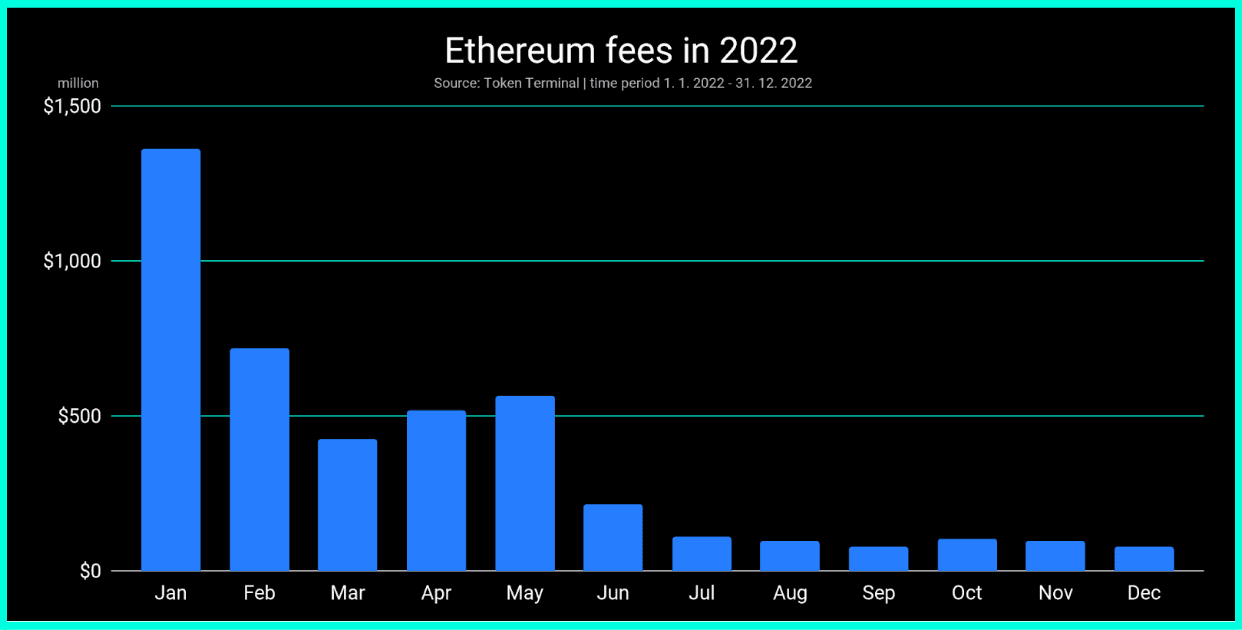 BNB Chain
BNB Chain (formerly Binance Smart Chain or BSC) ranks as the second blockchain in terms of fees generated in 2022 with $417,326,235 in total.
January - December fee revenue decrease was: 78% & users dropped about 5.5%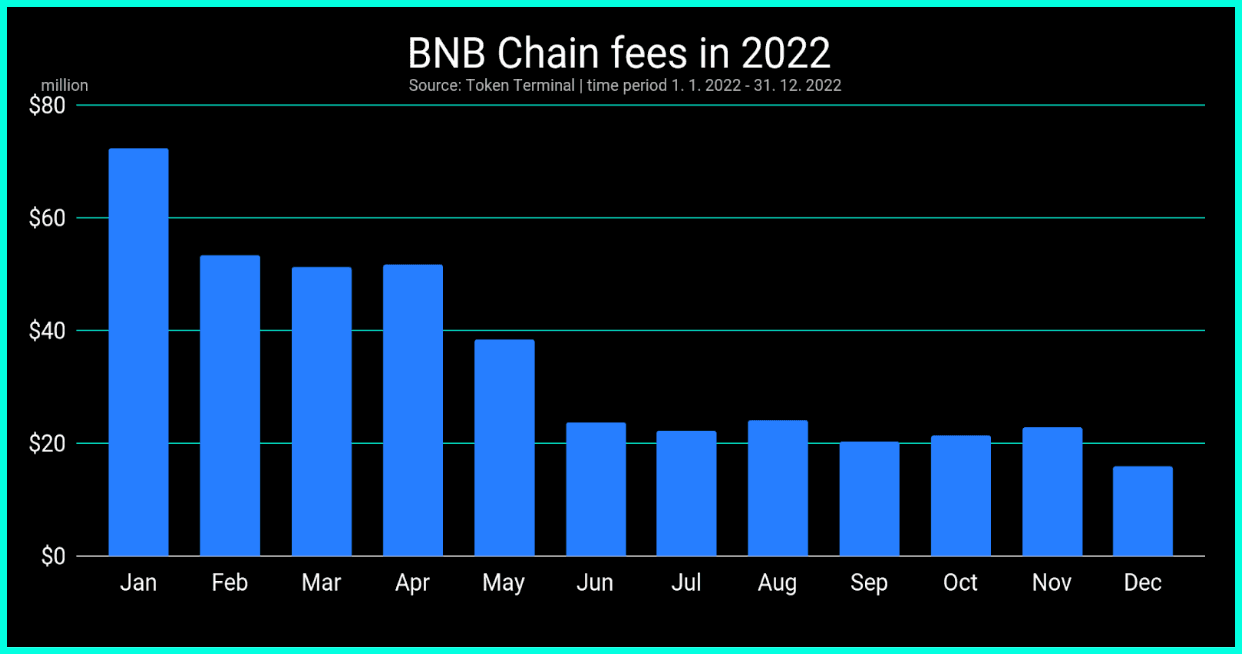 Bitcoin
Bitcoin ranks as the third blockchain in terms of transaction fees paid in 2022. Its total fees revenue was $141,780,296 in 2022. Despite the market development and compared to other chains, there wasn't a significant decline in fees paid.
January - December fee revenue decrease was: 33%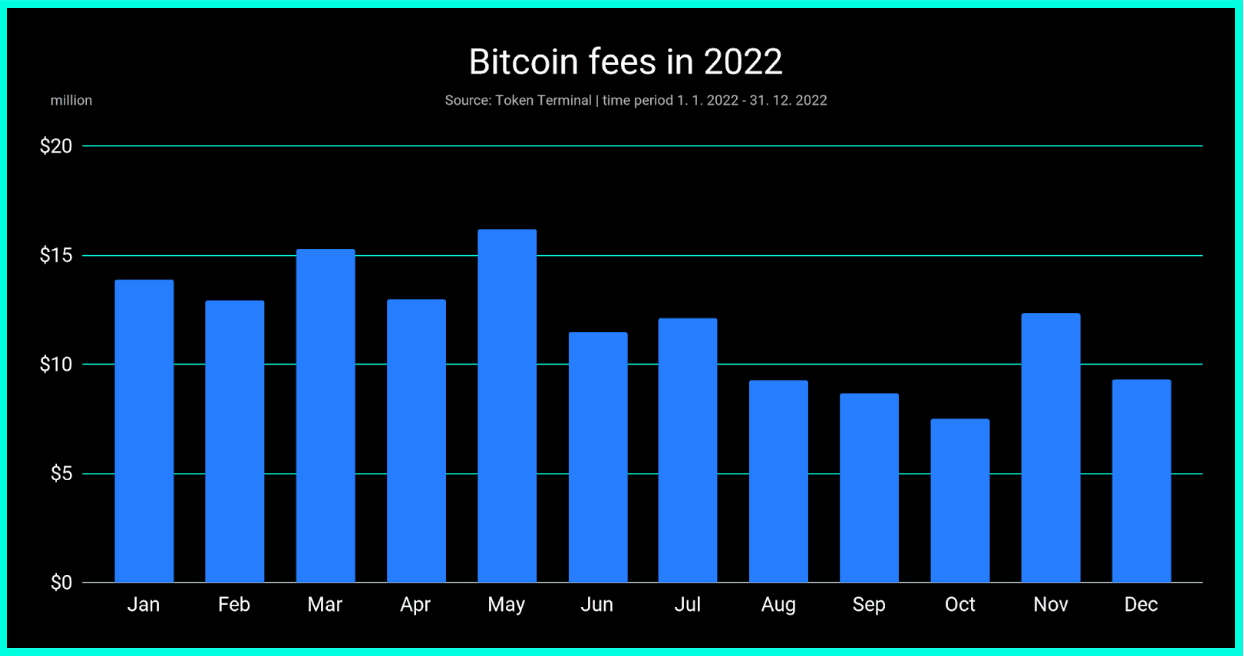 See the full report
This was just a sneak peek of what you can find in the Cryptonative economy report for the year 2022. The report continues with data from Avalanche and Filecoin blockchain, as well as with the dApp fees by various chains and with the top 20 dApp fees such as OpenSea, Uniswap, or LooksRare.
For the full report, please visit cryptonative.pwn.xyz and don't forget to share it with your friends.
PWN is a hub for peer-to-peer lending backed by digital assets. Use your NFTs or any token as collateral and invest in fixed interest loans and generate attractive returns. PWN makes this possible with no liquidation risks. Check out the PWN platform today.
Want to get in touch with PWN? Reach out to us on Twitter or join the community on Discord.