Recently, PWN announced a nifty tool that the community can take advantage of on Discord to stay up to date on their loans on PWN: The PWN notification bot. ICYMI, here's more info about the bot:
But wait, there's more!
Today, we're here to share the news about the newest of our integrations. This time, we're combining the expertise of Push Protocol and the PWN platform to bring our user experience to new heights.
Here's what the Push integration delivers to PWN users
Put simply, PWN's Push integration brings an easy way to get notified about the loans that you're interested in.
PWN users have the option of opting into two different types of notifications. Let's take a detailed look at both of them:
Option 1: Subscribing to PWN notifications. This choice will send you personalized notifications about each of your loans on PWN.

Option 2: Subscribing to the PWN Loan Requests channel. This setting will notify about new loan requests that appear on the PWN platform as well.
How to get started with Push notifications
For subscribing to PWN, simply type in "PWN" into the search bar in the Push app (also available on Android and iOS) and choose which notifications you'd like to subscribe to.
It's important to note that the PWN notification channels are only available on the Ethereum mainnet. However, when you subscribe to the PWN channels on the mainnet, you will receive notifications from both the mainnet and Polygon.
Finally, you'll need to sign a message in your wallet to opt into receiving Push notifications.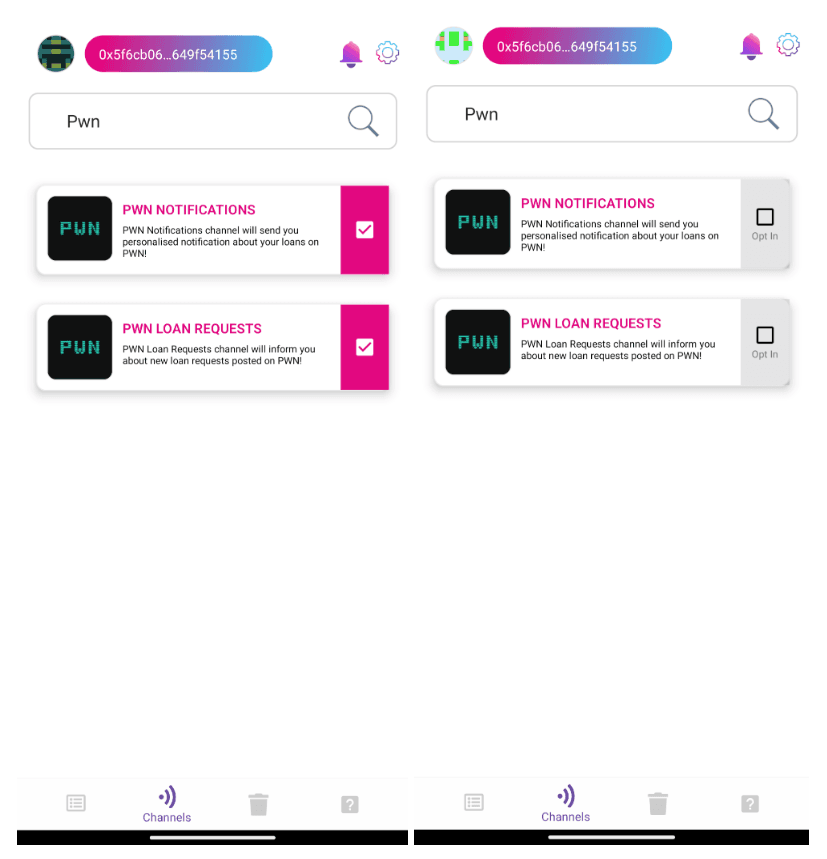 ---
PWN is a hub for peer-to-peer lending backed by digital assets. Use your NFTs or any token as collateral and invest in fixed interest loans and generate attractive returns. PWN makes this possible with no liquidation risks. Check out the PWN platform today.
Want to get in touch with PWN? Reach out to us on Twitter or join the community on Discord.